Are you interested in fighting period poverty on UNBC campuses? Then join our team of volunteers for the Period Promise Pilot Project spearheaded by NBCGSS, the Northern Women's Center and NUGSS! Other stakeholders include UNBC's generous funding and support, UNBC Facilities, the First Nation's Center and the PGPIRG!
We are looking for a dedicated group of volunteers, both graduate and undergraduate, to help re-stock menstrual products and record data during the pilot project. Volunteers must be available for training on the main campus in August and once a week during the fall semester. Both student societies are more than happy to provide references for volunteers and confirm volunteer hours for CV's, etc.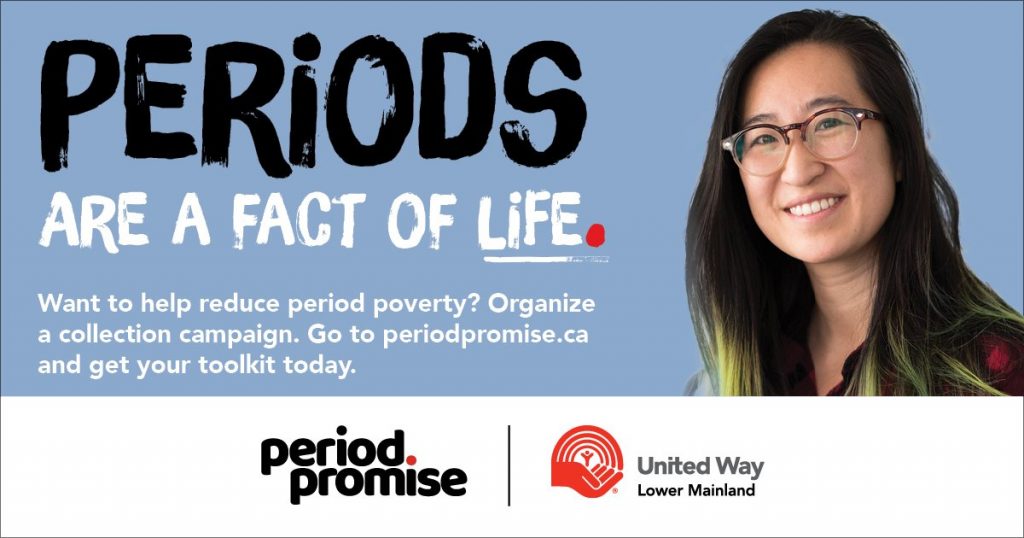 Thank you for considering to participate as a volunteer in our Period Promise Pilot Project!
Click here for our volunteer application form
Please submit all completed forms to gsspres@unbc.ca
Proposal:
We are proposing that menstrual products be provided in all women's and gender-neutral washrooms at the University of Northern British Columbia. Given that menstruation is a natural bodily process affecting over half the population, we believe that the provision of menstrual products be regarded as a fundamental necessity, as ubiquitous as toilet paper and paper towels in washrooms. The partnering organizations on UNBC campus are proposing to launch a pilot project during Fall semester 2021, supplying disposable tampons and pads in 4 washrooms at UNBC.
Background: 
Across the country – and the world – several initiatives to provide free menstrual products at schools have been met with great success. When one considers that each menstruating person disposes of approximately 17,000 menstrual tampons and pads in a life time (1), there are considerable financial resources attached to fulfill these menstrual needs. We propose that period products be placed in washrooms for everyone who menstruates.
Rationale:
Period poverty – defined as the lack of access to menstrual products, menstrual education, sanitary facilities and waste management– is a global problem. (2). According to a survey done by PLAN Canada, 34 percent of menstruaters in Canada have at some point had to choose between purchasing an essential item, including food and clothing, in order to budget for menstrual products (3). The Period Promise Project at UNBC aims to gain a better understanding of the many inter-related issues that result in inaccessibility to menstrual products and work towards eliminating inaccessibility.
Over the last couple of years, institutions in BC have made an effort to support those who are impacted by period poverty. In 2019, the City of Victoria made pads and tampons available in
all public, city-funded washrooms. In 2020, 2 city councillors in Vancouver introduced a motion to supply free menstrual products at city facilities including community centres, pools and other civic facilities. In addition, BC schools were mandated by the Ministry of Education to provide students access to free menstrual products by the end of 2020. Also, the University of Victoria have free menstrual products in select universal, women's and men's washrooms on campus.
Education:
The Period Promise Project is not just about providing free menstrual products but also aims to promote healthier attitudes towards menstruation and provide education on menstrual health and related health topics. To that end, the Northern Women's Centre at UNBC will continue to offer their Scarlet Tide Brigade workshops. The workshops speak to the health and environmental impacts of the traditional "feminine hygiene" products as well as providing a DIY "Sew your own Menstrual Pad" session. The benefits of other natural, reusable menstrual products are also discussed. Discussions on menstruation, reproductive health and other health topics will flow alongside the Period Promise Project.
The Environment:
Given that UNBC is Canada's Green University ™, we will be held to a high standard in terms of being as environmentally friendly as possible. We will be looking to minimize packaging and waste as a priority throughout this project. We will aim to source and purchase menstrual products packaged primarily with cardboard with minimal packaging. In addition, eco-friendly options such as menstrual cups, cotton pads and other period products will be incorporated into the project as viable alternatives to traditional "feminine hygiene" products (potentially leveraging support through UNBC Green funding).